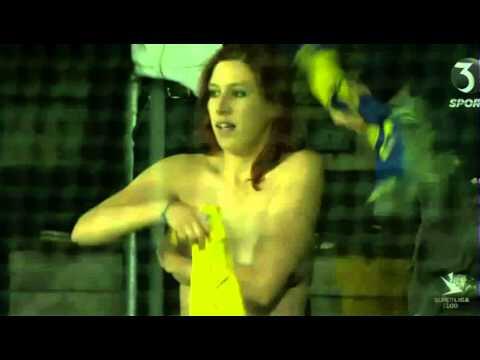 Earlier today we reported how a female Brøndby fan celebrated her team's first win of the season by flashing her boobs.
now Danish news site Ekstra Bladet have updated the story, publishing an interview with their new global superstar, Tanja Rasmussen.
The die-hard Brøndby supporter explained that the tradition arose from a bet with a friend in which she agreed to show her breasts when Brøndby finally won following a poor run of form.
The tradition has stuck and below the quotes is a new picture of Tanja celebrating a Brøndby win.
"I lift up my shirt when Brøndby win a game. And now it is really a long time since we've won, so it was great. Everyone on the south side (Brøndby end stand) knows who I am, and there was also an inspector who recognized me yesterday and grabbed hold of me and said it today, we will see boobs?"
On asked whether they are real or fake, she replied "It is a fantastic result from Nygart Private Hospital."
She continued, "I have not had a bra during Phillies jersey for many years. Then there would certainly be no fun in it. So you might as well see me in a bikini on the beach."
Incredibly the cheeky writers at Ekstra Bladet have used this story as a ploy to get female fans to send them pictures of their breats.
It is written on the site, 'Inspired by the Phillies Tanja fresh appearance last night against OB, we go on Ekstra Bladet now on the hunt for the best Danish soccer breasts.If you believe that you have the best tits and is a true football fan, please send your picture – of course with club jersey – to fodboldbryster@eb.dk by 1 October.
We, at 101GG are thinking of running a similar competition.